Polite enterprises specialises in the manufacture and installation of Bike Shelters & Compounds.
PEC's Bike Shelters are well-recognised by architects, councils and schools as a quality and reliable range of products.
If you cant find the exact bike shelter you are after in our range below Contact Us to discuss a customised bike shelter option for your specific application.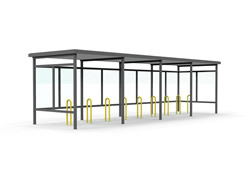 Download our Product Guide
DO YOU HAVE ANY QUESTIONS OR NEED A QUOTE?